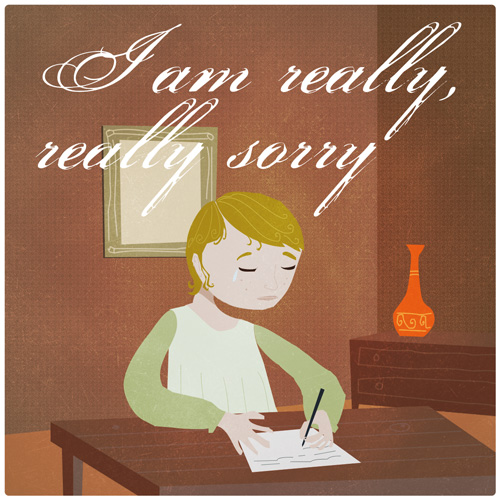 The theme, this week, is: Sorrow.
Well, I don't know... but this word reminds me a situation between two pen-pals, where one say sorry to the other for something, writing it on a letter.
These is the e-mail/sms time... it could be quietly strange, uh?
Tech notes: as usual, this piece was made enterely with photoshop.
I think this is lovely. And I still write letters - getting a letter in the mail is like a gift. Email is fine for quick blurts, but letters are an art. I like how you did the lettering...
by Elle (http://stuckinanutshell.blogspot.com)
nice atmosphere http://crobart.blogspot.com/
by starky (ystark@hotmail.com)
This is quite lovely! I've recently become a reawakened snail mailer...thanks to my blogging friends!!
by Giao (http://www.xanga.com/gnomeg)
i love your work. i need to write more letters.
by erika (http://www.five3.com)
I love the colors of this -- almost monochromatic, but not overwhelming. Well done! ;)
by Leslie (http://www.rubber-sol.com)
Wow! Quite lovely. I really like your style.
by Lisa (http://www.cafelisa.com)
the texture, the colors, the mood... it is a very classic piece. well rounded illustration. by the way, i think the art of letter writing is somewhat lost with the advent of email. letter writing is so personal... the handwriting, the stationary... being able to hold a physical piece of paper in one's hands is something that cannot be fulfilled in the same way as email. people should write more.
by Beth (sunberst.com)
this is lovely...I like your 'I Dream of Jeannie" bottle in the background.
by violetismycolor (diane@easystreet.com)
the body language says those exact words with clarity. It reminds me of regret, and how things have gotten very, very possibly, infact very likely... too late. Something special may have been lost. :(
by jam ()
i like it but it makes me think of a suicide not rather than an actual letter.
by blue (pineapplejunkie@aim.com)